History
The USS McGinty was a John C. Butler-class destroyer escort commissioned during World War II on 25 September 1944. She served on escort duty in the western Pacific. After the war, the McGinty was decommissioned, but was recommissioned on 28 March 1951 during the Korean War. During this time she served in the western Pacific as flagship of Escort Squadron 11. She continued to serve after the cessation of hostilities and was deployed three more times to the Far East in support roles of the 7th Fleet.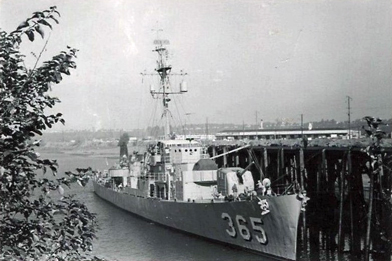 The USS McGinty moored in Portland, Oregon in 1961
Following her fifth deployment, the McGinty was decommissioned at Portland, Oregon on 19 September 1959 and was assigned to ResCortDiv 13. She was placed in service as a Group II selected reserve destroyer escort. Manned by a reserve crew, she performed vital training duty for the Naval Reserves.
In response to overt communist pressures by East Germany against West Berlin, the McGinty was mobilized by Presidential order on 25 August 1961, and recommissioned on 2 October 1961 with Commander Jerome E. Aakhus in command.
The McGinty sailed to Pearl Harbor as the flagship for Escort Squadron 7. She trained in Hawaiian waters until departing for the western Pacific on 10 February 1962. She bolstered the peacekeeping efforts of the 7th Fleet while cruising the Far East from the South China Sea to the Sea of Japan. It was on this sixth deployment that the McGinty sailed to Vietnam and provided training to South Vietnam in Saigon and on the Mekong River.
She returned to Portland on 17 July 1962 and was decommissioned on 1 August 1962. She then resumed duty as a training ship for the Naval Reserves operating out of Portland. In this role, the McGinty provided valuable service as a training ground to maintain the operational and combat readiness of reservists.
During a flood which affected much of Oregon and portions of northern California in late December 1964, she provided material assistance to emergency teams and lifesaving missions in the stricken areas.
The McGinty was transferred to the Inactive Ship Maintenance Facility in Bremerton, Washington on 23 September 1968. Her name was struck from the Navy list the same day, and she was sold for scrap on 27 October 1968.