Information for Veterans Exposed to Agent Orange
ESSENTIAL READING
VVA Self-Help Guide to Service-Connected Disability Compensation for Exposures to Agent Orange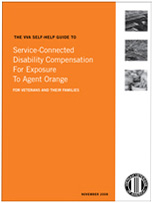 This guide is the recommended starting point for veterans and their family members to learn about the process to file a claim for service-connected disability compensation or death benefits with the VA for illnesses/diseases associated with exposure to Agent Orange and other related herbicides during military service. This guide will be helpful regardless of whether you have filed a claim in the past or not.
DOWNLOAD THIS SELF-HELP GUIDE (revised June 2023)
This guide provides:
A list of illnesses/diseases recognized by the VA as connected to Agent Orange herbicide exposure.
A list of birth defects recognized by the VA as connected to Agent Orange
An explanation of presumptive service-connected disability compensation related to Agent Orange exposure
An explanation of Agent Orange Registry and why it is importantInformation on how to file a claim for presumptive disability compensation.
The PACT Act is a new law that expands VA health care and benefits for Veterans exposed to toxic substances. It extends eligibility for Vietnam-era veterans who served outside of Vietnam, adds new presumptive conditions and diseases, and adds benefits for Gulf-war and post-9/11 veterans. To see a list of the new locations and conditions covered, follow the link below.
DOWNLOAD UPDATED LIST OF CONDITIONS AND SERVICE LOCATIONS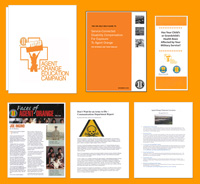 Other VVA Agent Orange Publications
Vietnam Veterans of America has published a comprehensive set of printed publications about Agent Orange.
These publications include:
The VVA Self-Help Guide to Disability Compensation for Exposure to Agent Orange (mentioned above)
VVA tri-fold "Has Your Child's or Grandchild's Health Been Affected by Your Military Service?"
The VVA publication "The Faces of Agent Orange"
"Don't Wait for an Army to Die" - an information paper by Mokie Pratt Porter, VVA Director of Communications
The VVA publication "Agent Orange Exposure Locations Recognized by the VA"
Chapter 392 will mail you a set of these publications at no charge. TO ORDER THIS SET, CLICK HERE.
The VA has an entire section of their website devoted to Agent Orange Exposure. Visit this site for the latest information about recognized diseases/conditions, Thailand bases, Blue Water Navy service, and service outside Vietnam or Korea.
The Agent Orange Registry
In 1978, the VA began a program to examine and to record the names of veterans concerned about health problems related to their exposure to Agent Orange and other herbicides during their military service in SE Asia. Eligible veterans qualify for an Agent Orange Registry exam. This will document the veteran's exposure history, medical history, physical condition and lab test results. This is not the same as a disability claim, but the results can be used to support a subsequent claim. To learn more about this program, click here.
VVA encourages all veterans with Vietnam service to have an Agent Orange Registry exam. To get an exam, please contact your local VA Environmental Health Coordinator. In Portland, you can call 503-906-5100 to speak with the local coordinator.
Finding a Veterans Service Officer
You will probably find VA rules, regulations and procedures complicated and frustrating, so it is important to get knowledgeable help to file a claim. Many Veterans Service Organizations including VVA offer free assistance to help you present your claim to the VA. You should choose a representative carefully; ask questions about their claims experience before you select them. Find out if there are any limits on their service BEFORE you sign a power of attorney appointing them as your representative. Also, make copies of ALL documents used in your claim and keep them in a safe place in case any paperwork is misplaced or lost.
Information on Veterans Service Organizations can be found on the last page of the VVA Self-Help Guide to Service-Connected Disability Compensation for Exposures to Agent Orange.
VVA utilizes Service Officers in the representation of claimants seeking VA benefits. Service Officers, referred to as Service Representatives by some organizations, are recognized by the VA as being allowed to represent claimants seeking benefits before the various levels of the VA. To find a list of VVA affiliated Veterans Service Officers near you, visit the VVA website Service Officer Locator page.